Pam's Greenhouses History
It all began in the spring of 1986… our grocery store wholesale supplier, Nash-Finch in Appleton, WI was helping grocers set up greenhouse huts. My dad, Bill Pierce decided to try one hut. When I heard the news, I cried. You see, back then I didn't know a marigold from an impatiens! The only gardening I had ever experienced was working outside with my grandma, Lila Pierce, along with some gardening with my other grandparents, Adeline and Clifford Lange.
But I Learned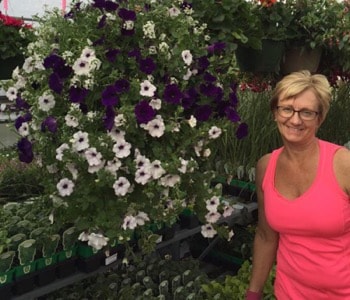 I've always had two mindsets: I can do and learn anything I put my mind to, and always deliver to your customers what they want – service, variety and quality at a fair price.
Since those early days, Pam's Greenhouses have grown from one small greenhouse hut to 5 large huts. I've always listened to what my customers were looking for and I've tried do my best to find and fulfill their requests. I also understand how gardeners shop, knowing many will travel from all over to visit different garden centers to find unique plants and ideas that their friends and family will enjoy.
I've also learned that some customers think we only get one shipment of plants. The truth is: in May, our busiest month we can get 8-12 trucks in one week! When those trucks come in… yes, it's a lot of work and we use muscles that have not been used all winter but, "OH BOY" do we have fun. It's like opening Christmas presents! All the colors, new varieties of plants and accessories make it so exciting. Yes, my staff and I do get a little silly, but it's hard not to… it's always sunny in our greenhouses.
I keep my greenhouses open 7 days a week, 8a.m. to 8p.m. including holidays. I know many of my customers find preparing and working in their gardens and yards is a relaxing way to end the day. My husband wonders why I garden at home and make so much work for myself, when I work all week in the greenhouse. As many other gardeners understand – it's a hobby and it does not feel like work. It feels good and studies have shown that it is beneficial for our bodies and can be a wonderful stress reducer.
The Next Generation
Now, as I am getting older, my daughter Chelsey has joined me. She's learning the ropes and bringing a younger generation to the helm. It's fun watching her learn as I did and see her enjoy it as much as I do. She is a natural and also manages our floral department inside Viking Village Foods and does a great job!
I love my customers and enjoy seeing their excitement when they walk into our greenhouses. Plan to come and spend some time with us as we have a lot of fresh new things for you to see this year!
Pam